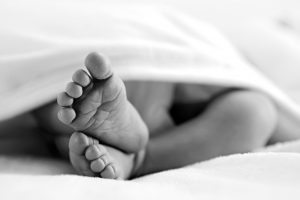 When we talk about child development, we often focus on the usual superstars: The brain for processing information, arms and legs for moving, hands for grasping… We don't talk as much about the feet, but we should! If you think about it, the fact that your little one's feet eventually support her entire body during movements such as standing, walking, running, pivoting, and jumping is incredible.
So (cue drumroll), let's dive right in and take a look at the all-important development of your little one's feet.
How Does the Foot Develop?
At birth, the 52 bones in your baby's feet (1/4 of all the bones in her entire body) are extremely soft. Bones strengthen under stress, so as she puts pressure on her feet the bones gradually harden. This process starts right away, when she does things like push her feet against your lap or her car seat, or presses the tops of her feet down during tummy time. It continues as she progresses to standing, cruising, walking, running, jumping, and climbing, but it will take about 18 years altogether for those bones to fully form.
Even though it will take into early adulthood for the bones in your child's feet to fully harden, size-wise her feet grow a lot in the first year – up to half of their adult size!
If you're worried about your baby having flat feet, rest assured that a layer of baby fat where the arch will eventually be is normal. Little ones simply don't have the strength to support foot arches. After about two years of walking, foot arches will begin to form.
The Importance of Toes
The 14 bones in the toes are among the smallest in the human body. One role they play is helping us stabilize our bodies. Try balancing on one foot with your toes off the ground, then put your toes down. Easier, right? They also help us push off the ground when we walk, run, jump, etc.
Foot Dominance
Your child will eventually develop a dominant hand, and she'll end up with a dominant foot, too. But foot dominance isn't always established in toddlerhood. Some little ones may show a preference for one foot over the other, but according to Pediatric Occupational Therapist Natasha Bravo, "it's actually good for toddlers to experiment with using both sides because it exercises all the tiny muscles in both feet. This helps ensure that when foot dominance emerges, the stabilizing foot is also strong."
Foot-Eye Coordination
Just as hand-eye coordination allows your child to effectively guide her hand movements, foot-eye coordination allows her to successfully navigate different environments: Walking on uneven surfaces, understanding how high she needs to lift her foot to climb a stair, learning to predict what to do with her feet, etc. And, of course, foot-eye coordination also takes center stage when it comes to activities like kicking balls.
Good foot-eye coordination starts with supporting visual development, body awareness, and gross motor skills. Bravo recommends massaging your baby's feet, exposing your toddler to different walking surfaces (such as stones, sand, grass, or gravel) and, in general, allowing plenty of time for your little one to freely move her body.
Lastly, we can't write an article about foot development without saying how valuable it is to keep your child barefoot as much as possible. In fact, we wrote an entire article about the benefits of a barefoot childhood.