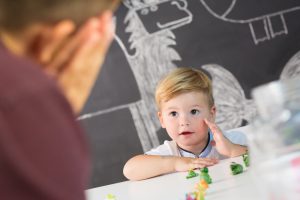 Not all little ones develop at the same rate, which is why milestones are based on averages or age ranges. But sometimes a parent or caregiver may suspect that a child is lagging too far behind. Lagging behind on speech and language milestones may point to a problem.
In this article we'll talk about the difference between speech and language, as well as common speech and language disorders, how to spot them, and the importance of intervening early.
What is the Difference between Speech and Language?
The terms "speech" and "language" are often used interchangeably, but they're defined in distinct ways. Speech is the act of using the voice, jaw, lips, tongue, and teeth to talk. Language, on the other hand, is the entire system of words, rules of spoken language (such as grammar), symbols, non-verbal cues (such as gestures, facial expressions, and body movements), and social "rules" that help us communicate with each other effectively.
Speech disorders and language disorders are also two distinct things:
Speech Disorder
If a child has a speech disorder, it means he has trouble using his voice or coordinating his jaw, lips, tongue, and teeth to talk. The most common childhood speech disorders are:
Articulation Disorder – A child has trouble making clear speech sounds. He may substitute one sound for another, drop sounds or syllables within words, or simplify tricky word combinations. Before age 3, articulation errors are common. Our article about articulation goes into detail about this.
Stuttering – A child may pause for an especially long time while trying to get a word out (I want…milk), prolong certain speech sounds (miiiiilk), or repeat parts of words (m-m-m-milk). According to the American Speech-Language-Hearing Association, stuttering usually starts between ages 2 and 6.
Voice Disorder – A child's voice quality (including pitch and volume) makes it hard for him to speak in an age-appropriate and culturally appropriate way.
Language Disorders
Language disorders cause a breakdown in the way the brain processes the information that allows a child understand others or communicate effectively. Causes include genetics, preterm birth, hearing issues, developmental disorders such as Down syndrome or autism, and brain injury.
There are three types of language disorders:
Receptive Language Disorders – A child has trouble understanding what others are communicating.
Expressive Language Disorders – A child has trouble communicating with words and non-verbal language.
Mixed Receptive-Expressive Disorders – A child has trouble both understanding and communicating.
Receptive language disorders can be hard to spot during toddlerhood, but may be present if your little one consistently lags behind on "understanding" milestones like responding to others' efforts to interact, answering questions, and following directions.
Expressive language disorders are easier to flag early on. Signs include not using age-appropriate gestures (our article on baby gestures goes into this in detail), lagging behind on speech milestones (especially saying first words), and acquiring new communication skills and then losing them. A tool like BabySparks can help you track your child's milestones and spot possible red flags early.
How are Speech and Language Disorders Diagnosed?
Speech and language disorders are diagnosed after a thorough evaluation by a pediatric speech language pathologist (SLP). You can find an SLP in a few different ways: Privately, through your insurance company, or through state-funded early-intervention programs (here you can find a comprehensive list of early-intervention programs by state).
How are Speech and Language Disorders Treated?
If your child is diagnosed with a speech or language disorder, an SLP will use various interventions to improve your child's ability to communicate. An essential part of speech-language therapy is helping your child at home, so be sure to follow your SLP's homework.
The Importance of Early Intervention
The first three years of life are the richest window of possibility when it comes to closing developmental gaps. During that time, a child's brain is more "moldable" than it will ever be again, so the chances of maximizing his skills are highest.
In the past, it was common for speech and language issues to be flagged once a child started school. But, thanks to research, we can now spot red flags earlier (even in infancy), which means we can intervene during that critical three-year window of brain development.